Why is Crown Holdings, Inc. running out of cans?
Supply chain students are familiar with the "beer game." It's an academic exercise that shows how a small increase in demand at the end-consumer level can drive larger ripples through the entire supply chain.
We are witnessing a real-life "beer game" today, as demand shifts from kegs to cans. The shutdowns in restaurants and bars have caused a decline in keg purchases. But beer drinkers continue to seek alternatives.
As the Wall Street Journal and others recently noted, we are running out of cans. Molson Coors says it is is losing market share because it cannot source enough 12-ounce cans for its Miller Lite.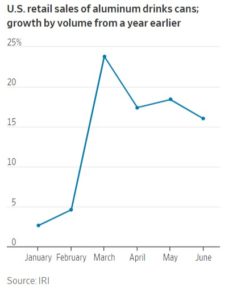 These shortages show the importance of software and services for supply chain planning. Smart retailers and manufacturers will rely on predictive software to help identify shifting trends in consumer demand, so they can adapt accordingly. Will supply chain technology companies emerge as winners?
–Benjamin Gordon, Cambridge Capital
To hear more of Benjamin's insights on supply chain and technology, follow him on YouTube, LinkedIn, and Twitter.