Listen to Podcast Here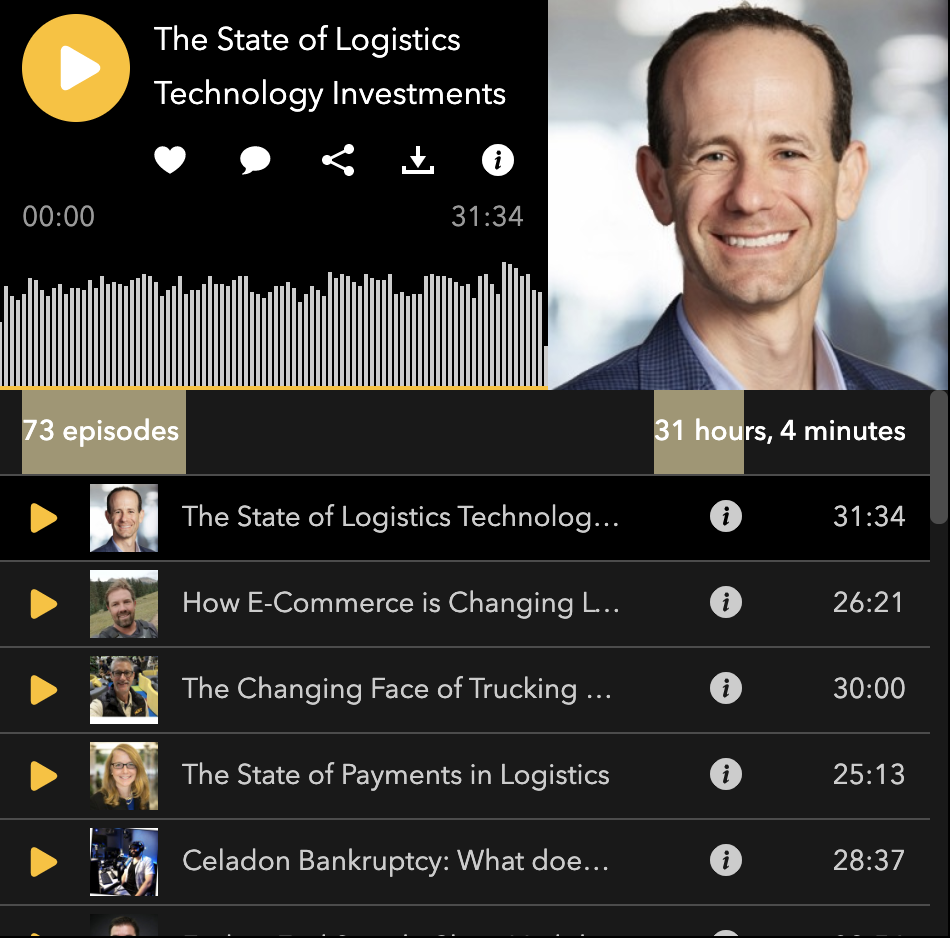 Hello and welcome back to another episode of "The Freight Project Podcast!"
On today's episode we welcome Benjamin Gordon of Cambridge Capital, a capital investment firm with a focus on logistics & logistics technology. Ben is a long time veteran of the logistics industry, having first worked for a company that developed a TMS for 3PLs.
We hope you enjoy this "The Freight Project Podcast." You can subscribe and find this podcast on Apple iTunes, Google Play, Stitcher for Podcasts, Spotify, Soundcloud, YouTube, and iHeartRadio!
The Rise of Logistics Technology Investments
On the episode, Ben will share his thoughts on the state of logistics technology investments and the market in general that he has gleaned in investments made by his firm and in his conversations with logistics technology leaders, especially at his recent conference held on January 22nd to January 24th of 2020. Now, at the time of this recording, this conference had not yet occurred, but has now completed. Look out for the BGSA supply chain conference in 2021!
On the episode, you'll hear Ben discuss the following:
Ben's background as a logistics technology practitioner and his expertise as it relates to logistics technology investments.
What are the driving forces  that are causing more logistics technology investments and more companies acquiring and or boosting advanced logistics capabilities?
Are shippers getting distracted by the shiny objects offered by some advanced technologies like blockchain, AI, and machine learning? Are those things that maybe we're hyping too much that are already within those platforms and we should focus more on the outcomes and not necessarily the technology or the guts of the systems that we're using?
Is the true value of logistics technology investments creating niche supply chain functionalities, such as visibility, that can the integrate into core technologies like TMS to augment the capabilities of a logistics manager?
In Ben's conversations around logistics technology investments, is he noticing that many executives are utilizing technology more as a way to ultimately improve customer experience?
With Shopify's recent acquisition of 6 River Systems, will we see more platforms, like with what Amazon has done with their investments, put more focus on logistics technology investments as a way to add more logistics value to their core customer base?
As we talk about e-commerce and the role of technology in LTL Freight shipping, what are your thoughts on some of the advanced technologies like Machine Learning and Blockchain. Will this further aid, and how will they aid, improved processes in e-commerce LTL shipping and LTL shipping at large?
Is this extreme focus on logistics technology and supply chain investments really just a way to improve bottom lines?
We hope you enjoy this episode of The Freight project podcast!